Welcome to Point Michaud
Beach House
Overlooking the Atlantic Ocean in Nova Scotia, Canada, Point Michaud Beach House is a self catered guesthouse. The house hugs a sand and pebble beach framed by rock and bordered on the east by a fresh water brook. Each of the two large rental rooms on the second floor is equipped with full bath, queen-sized bed, futon couch/double bed; kitchenette with sink, mini-fridge, microwave, and coffee maker — all the amenities of home in a rugged, coastal setting.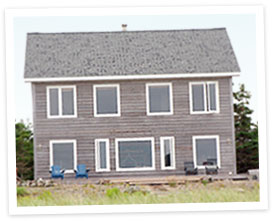 Within a short walk lies Point Michaud Beach, a marvelous 3 km sand beach. Michaud Point, at the extreme end of the beach, offers the perfect picnic destination, complete with seal and bird sightings, and gorgeous coastal scenery.
Point Michaud Beach House also includes Grey Seal Weaving Studio on the ground floor. Take a tour with the weaver.